Have you ever thought about your name? I mean really taken the time to think about how important a name is. Your name is an identifier...it's who you are. God has many names - more than we even know, and last night at C4, Tyson talked about three of God's names. Emmanuel, Elohim, and El Elyon. Each of his names identifies who he is and describes his character.
Emmanuel - God With Us
Matthew 1:21-23 (KJV) And she shall bring forth a son, and thou shalt call his name Jesus: for he shall save his people from their sins. Now all this was done, that it might be fulfilled which was spoken of the Lord by the prophet, saying, Behold, a virgin shall be with child, and shall bring forth a son, and they shall call his name Emmanuel, which being interpreted is, God with us.
Why did God choose the name Emmanuel for his son? He could have chose any other name that would be as descriptive (Holy, Just, Merciful, Savior)...but he specifically chose Emmanuel as a reminder for us that he is always with us. To constantly remind us of who he is. Our God is not distant or far away - he is alive and he is here with us.
There are times in life that we might say that we feel distant from God. We might even begin to doubt and question God. But when we begin to feel distant, we need to remind ourselves of his name. Emmanuel - God with us in the good times, God with us in the bad times, God with us on the mountain, God with us in the valley, God with us when we feel him, and God with us when we don't. When you feel distant from God...ask yourself, "When was the last time I drew near to Him?"
Isaiah 8:5-10 (KJV) The LORD spake also unto me again, saying, Forasmuch as this people refuseth the waters of Shiloah that go softly, and rejoice in Rezin and Remaliah's son; Now therefore, behold, the Lord bringeth up upon them the waters of the river, strong and many, even the king of Assyria, and all his glory: and he shall come up over all his channels, and go over all his banks: And he shall pass through Judah; he shall overflow and go over, he shall reach even to the neck; and the stretching out of his wings shall fill the breadth of thy land, O Immanuel. Associate yourselves, O ye people, and ye shall be broken in pieces; and give ear, all ye of far countries: gird yourselves, and ye shall be broken in pieces; gird yourselves, and ye shall be broken in pieces. Take counsel together, and it shall come to nought; speak the word, and it shall not stand: for God is with us.
The Assyrians waited until they were surrounded by trouble to call out to God. Often times it takes something tragic for us to remember who he is...we don't cry out to him when life is good. It's part of our sinful nature - when life is good, we forget him and begin to lean on our own strength. It's not until trouble comes that we cry out to him. We can't just seek him only in the times we think we need him. Call on his name even when everything is good and clear in life. When we draw near to him, he draws near to us.
Elohim - God In Us
Genesis 1:26 (KJV) And God said, Let us make man in our image, after our likeness: and let them have dominion over the fish of the sea, and over the fowl of the air, and over the cattle, and over all the earth, and over every creeping thing that creepeth upon the earth.
Take a close look at the pronoun that God uses. "Us". When God says that, he's talking about the plural tense of himself. The trinity. God the Father, God the Son, and God the Holy Spirit. God didn't just want to be with us...he didn't create us just to watch and be beside us. He wanted to be in us and through us. This is where the Holy Spirit comes in. When Jesus walked on earth, he was physically with us. When he went to be with the Father, he sent his Spirit so that he would be not only with us, but live in us as well.
John 14:16-20 (KJV) And I will pray the Father, and he shall give you another Comforter, that he may abide with you for ever; Even the Spirit of truth; whom the world cannot receive, because it seeth him not, neither knoweth him: but ye know him; for he dwelleth with you, and shall be in you. I will not leave you comfortless: I will come to you. Yet a little while, and the world seeth me no more; but ye see me: because I live, ye shall live also. At that day ye shall know that I am in my Father, and ye in me, and I in you.
If the Holy Spirit isn't in you, then you have yet to taste the fullness of life. God leads, guides and directs us in life. He also speaks to us in a still small voice. The voice is the Holy Spirit who convicts you and draws you back to himself. We get so caught up in the motions...the lyrics...the routine...that we don't realize that we don't know Him. He wants to live in us and through us. If you wonder why your life is messed up and isn't changing...ask yourself "When was the last time I looked for Him? When was the last time I listened to Him?"
John 14:12 (KJV) Verily, verily, I say unto you, He that believeth on me, the works that I do shall he do also; and greater works than these shall he do; because I go unto my Father.
Elohim...God In Us...The Spirit doesn't just speak to you...He empowers you. John 14:12 says that if we believe in him, we can do anything. When the world looks at us, they won't believe it if all we do is preach it. They say that they don't believe because God can't do miracles anymore...that they never see that. They'll look at our lives...they'll look for prayers answered. Many people don't think about salvation as a miracle. But I know that there is no greater miracle than God saving
me
...making
me
new...saving
me
...forgiving
me
. Who is God that he "can't"? What God do you serve that he can't do miracles?"
1 Corinthians 12:3 (KJV) Wherefore I give you to understand, that no man speaking by the Spirit of God calleth Jesus accursed: and that no man can say that Jesus is the Lord, but by the Holy Ghost.
When you pray...when you worship...things happen. If the Holy Spirit lives in you, it's impossible to curse God...but at the same time, you can't say that God is Lord unless the Holy Spirit is in you. The Holy Spirit causes you to glorify Jesus and not yourself. If Jesus is lifted up, he will draw men to you. He empowers you to live as a testimony to himself. When we call on his name, he lives through us...in our lives and empowers us to pray for people. Anything that happens because of prayer is not because we prayed...it's because God is living in us and through us.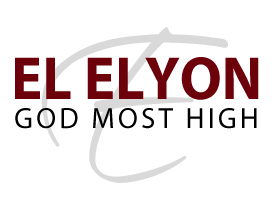 El Elyon - God Most High
Isaiah 14:13-17 (NLT) For you said to yourself, 'I will ascend to heaven and set my throne above God's stars. I will preside on the mountain of the gods far away in the north. I will climb to the highest heavens and be like the Most High.' Instead, you will be brought down to the place of the dead, down to its lowest depths. Everyone there will stare at you and ask, 'Can this be the one who shook the earth and made the kingdoms of the world tremble? Is this the one who destroyed the world and made it into a wasteland? Is this the king who demolished the world's greatest cities and had no mercy on his prisoners?'
In these verses in Isaiah, God is addressing the very thoughts of Satan. Satan said that his kingdom will be high...like the Most High. But even Satan knows that our God is the Most High because even in his wildest dreams, he cannot imagine being better...he wants to be "like the Most High".
Do you know why Satan despises us and lives for our demise? Why Satan beats us down all the time? Because he couldn't be like the Most High...and the Most High lives IN YOU. The very moment that you turn to God, he is with you, and he lives in you. When Satan looks at you, he doesn't see you anymore. He sees El Elyon, God Most High living in you. (2 Corinthians 5:17 - Therefore, if anyone is in Christ, the new creation has come: The old has gone, the new is here!)
You cannot allow yourself to live like the world when the Most High God lives in you. Satan sees him and the world needs to see him as well. Don't say that you "can't" because if you truly received him and he lives within you...then he will give you the power. When you're feeling discouraged, just remind yourself who lives in you and whose power is in you. If you want to do something important...if you want to make a mark on history...if you want to change lives...then live for God.
God with us. God in us. God most high.
If you don't live like the Most High lives in you, then you could lose everything. (Check out Daniel 5:18-20...God gives and takes away) El Elyon does not mean at the top, good or close to best...it means THE. MOST. HIGH. Can the Most High live inside if you are out there living the lowest life you can live? His name isn't 2nd best or mediocre...Our lives have to mirror what his name is.
He doesn't want perfection...It's a call to holiness. (Leviticus 19:2..."Ye shall be holy: for I the LORD your God am holy") He wants us to get up, move forward, leave our past behind and seek his kingdom. He wants us to raise the standard. He...The Most High...cannot be tainted by this world. If we stand up, he will move in our lives. If we give a half-hearted prayer and turn right back into our sinful lives, he won't move.
Too often we complain about the church...but we don't do anything. We think that if God is in it then it's all good...and as long as my life is a bit better than someone elses life that it's okay. NO. Leviticus 19:2 again...Be Holy. It might cost us everything...family, friends, favorite places, music...BUT...what on this earth do you love more than God? He is everything and more than enough.
Remember his name...Remember who he is...and encounter the living God.