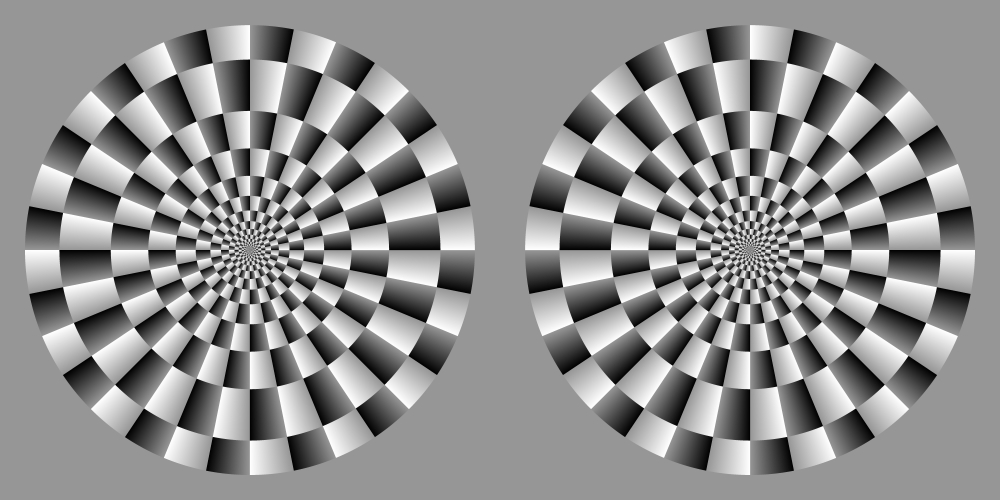 Our mind often times tries to trick us. When you take a good look at this picture, our brain tries to convince us that the circles are moving...rotating, when in reality...they are stationary and flat. Sometimes we try to convince ourselves that some things are a certain way when in reality they are far from our perception of them.
This past Sunday, on the 10th anniversary of the 9/11 attacks, Tyson made the comment that if the enemy can use 19 hijackers to change history, how much more can God do with 19 people who take a stand for him? There is a tragedy bigger than what happened ten years ago in New York. The real tragedy is that this world is FULL of people who are far from God.
It is because of this great tragedy that we are meant to live a life of urgency. We weren't created to just sit around and enjoy salvation...we were made to set a fire. An entire generation running from God on our watch is a greater tragedy than anything this world has seen. We will all come to an end one day and we will all be judged...there are only two places you can end up, heaven or hell. The Bible tells us these things clearly but we still try to smudge the edges into what we want, especially on topics like Forgiveness, Gossip, and Unity.
Forgiveness
Luke 6:27-36 "But I say to you who hear, Love your enemies, do good to those who hate you,

28

bless those who curse you, pray for those who abuse you.

29

To one who strikes you on the cheek, offer the other also, and from one who takes away your cloak do not withhold your tunic either.

30

Give to everyone who begs from you, and from one who takes away your goods do not demand them back.

31

And as you wish that others would do to you, do so to them. "If you love those who love you, what benefit is that to you? For even sinners love those who love them.

33

And if you do good to those who do good to you, what benefit is that to you? For even sinners do the same.

34

And if you lend to those from whom you expect to receive, what credit is that to you? Even sinners lend to sinners, to get back the same amount.

35

But love your enemies, and do good, and lend, expecting nothing in return, and your reward will be great, and you will be sons of the Most High, for he is kind to the ungrateful and the evil.

36

Be merciful, even as your Father is merciful.
When we are unforgiving, we prevent the world from seeing God. You might say, "Well Chelsey, you don't know what So-and-so did to me or said to me." I just have to say that I don't care what they said or did. We are called to FORGIVE them...but not just that, we must go above and beyond and love them and pray for them.
Forgiveness is not saying that what they did is okay. When you forgive someone, you aren't condoning their behavior...you're saying that you are moving forward with your life. We believe that God forgives us, he forgives even the worst of the worst, no matter what your past or mistakes, he still and always will love and forgive you. But how can we believe that and turn right around and say "I'm not going to forgive you and I'll never forget what you did to me."? If you want to be like Christ (as we are called to be) and to show God to the world through your life, how can you be unforgiving? We have to lay down our strife and anger and bitterness so that the world can see him. No one can see God if all they can see is the bitterness we are holding onto.
We watch shows about people who hoard things and shake our heads at the mess, all the while holding onto so much spiritual stuff that no one can see God in our lives. We become spiritual hoarders when we are unforgiving...and then you turn around and wonder why you can't see God at work in your life. Let go of the baggage that you are holding so tightly to if you want to enter into his presence. God calls us to forgive...he doesn't say forgive unless they did/said ____________. Forgive them, love them, and pray for their well-being.
Gossip
is a HUGE issue in our lives.
James 3:2-12 For we all stumble in many ways. And if anyone does not stumble in what he says, he is a perfect man, able also to bridle his whole body.

3

If we put bits into the mouths of horses so that they obey us, we guide their whole bodies as well.

4

Look at the ships also: though they are so large and are driven by strong winds, they are guided by a very small rudder wherever the will of the pilot directs.

5

So also the tongue is a small member, yet it boasts of great things. How great a forest is set ablaze by such a small fire!

6

And the tongue is a fire, a world of unrighteousness. The tongue is set among our members, staining the whole body, setting on fire the entire course of life, and set on fire by hell.

7

For every kind of beast and bird, of reptile and sea creature, can be tamed and has been tamed by mankind,

8

full of deadly poison.

9

who are made in the likeness of God.

10

From the same mouth come blessing and cursing. My brothers, these things ought not to be so.

11

Does a spring pour forth from the same opening both fresh and salt water?

12

Can a fig tree, my brothers, bear olives, or a grapevine produce figs? Neither can a salt pond yield fresh water.
We are inclined to gossip. Our sinful nature makes it easy. But when you gossip, you tear other people down. Your tongue/mouth/words is the most difficult battle we will ever fight. It's out of the abundance of the heart that we speak. Even what we say in "secret" is a reflection of what's in your heart. Do you build up or do you spend hours nit-picking?
Gossip is a nasty and dangerous thing...it's a tool the devil uses for division amongst God's people. You have the power of death and life in your tongue. You are called to build the kingdom and not destroy it. You are called to speak life into the broken. Jesus blessed those that we judge and condemn. We are not the judge of humanity...we have no right to tear others' down with our words. A good rule of thumb that we've heard all of our lives...if you can't say something nice, then don't say it at all...aka shut your mouth. Gossip divides...and those who are quick to gossip are those who are disconnected from God. We are called to be warriors...to have each other's backs...not to only be there in the good times and tear them down when something goes wrong. We have the power to uplift, encourage, unite and mend the broken because He lives in us. Show people the love of God by not gossiping...by stopping it when you hear it...by speaking life into people and situations and keeping your mouth shut when it needs to stay shut.
Unity
John 17:20-24 "I do not ask for these only, but also for those who will believe in me through their word,

21

that they may all be one, just as you, Father, are in me, and I in you, that they also may be in us, so that the world may believe that you have sent me.

22

The glory that you have given me I have given to them, that they may be one even as we are one,

23

I in them and you in me, that they may become perfectly one, so that the world may know that you sent me and loved them even as you loved me.

24

Father, I desire that they also, whom you have given me, may be with me where I am, to see my glory that you have given me because you loved me before the foundation of the world.
The number 1 lie that the devil tries to tell us is that we can do it on our own. That we've got this. The enemy wants you isolated and separate from any positive influence. Only when the church unites as one, will people truly see God. It's not about you or me...it's about us coming together. We can't accomplish anything without like-minded people there to support us, love us, and pray for us. Don't allow yourself to become isolated.
To unite doesn't mean that everyone is doing to be best friends. It means that we love each other in the good and the bad...when you see hurt, you run to the need and not away from it. The church is famous for being clique-y. Where in the Bible does it say that you should have 5 best friends who are all really good looking and everyone else is weird and you aren't supposed to talk to them? Unity isn't exclusive...it's where you(as a whole) find the broken, and run to provide for whatever the need happens to be. Together...If you really have a passion to see this world changed, then let the church unite. Come together and walk together towards that goal. We need to care, and declare the truth with our mouth, lives, and actions.
Sometimes to build, you have to tear down...tear down the walls and sin in your life. You are greater than the baggage you carry around. You can't be who you were created to be if you are holding onto everything. The greatest tragedy this world will see is this world without God. Forgive - let go of the baggage so they can see, Don't gossip - build up don't tear down, and unite...become the body of Christ that will show this world who God really is.