"What Burden Do You Carry?"
When Jesus was in the Garden praying before he died, he began to sweat blood as he interceded for us. The burden he carried for us, carried him to the cross.
We are all so good at being busy but are often neutral and lacking motivation when it comes to prayer. We don't carry a burden. Genuine prayer begins with a burden...but often our burden becomes us. When our burden is all about us, our prayer life dies. Our burden should be that of the campus, the city, the lost, our generation and an urgency to see the lost reconciled with our Creator. But do we pray according to our burden?
Almost everyone has at some point heard the Lord's Prayer. But have you ever thought about the deeper meaning behind it?
We pray to our Father in heaven...not on earth...in heaven. Prayer connects heaven and earth. This speaks of the communion between your soul and God. Our God holds everything in his hand...the number of lightyears between the earth and the edge of the galaxy is a number we cannot comprehend, but 1 prayer goes beyond the distance. Even when we don't feel like it...he still hears us.
Why do we pray in Jesus name? If we ask in his name, it will be done. There is no other way to the Father than through the son. Through his son we have access and all authority is in the name of Jesus.
We don't pray TO Jesus - we pray to the Father. Jesus' work is done. He gave his life, he healed us with his stripes and as he took his final breath he said "It is finished." So we pray to the Father in the name of Jesus.
Isaiah 52:13-15 See, my servant will act wisely; he will be raised and lifted up and highly exalted. Just as there were many who were appalled at him—his appearance was so disfigured beyond that of any human being and his form marred beyond human likeness—so he will sprinkle many nations, and kings will shut their mouths because of him. For what they were not told, they will see, and what they have not heard, they will understand.
The servant spoken of is Jesus. Even though he is unrecognizable now, he will once again startle the nations.
So often we pray for healing and deliverance. But we have to realize that we are praying for something that he has already done. He has healed our diseases...for by his stripes we are healed.
Isaiah 53:3-5 He was despised and rejected by men; a man of sorrows, and acquainted with grief; and as one from whom men hide their faces he was despised, and we esteemed him not. Surely he has borne our griefs and carried our sorrows; yet we esteemed him stricken, smitten by God, and afflicted. But he was wounded for our transgressions; he was crushed for our iniquities; upon him was the chastisement that brought us peace, and with his stripes we are healed.
IT IS FINISHED
We ask him to do something that he already finished. We have to have faith that he has finished it and that his blood is enough. Enough to heal our illnesses, enough to get us through trial, enough for our generation...enough for it all. That doesn't mean that we shouldn't pray or that we should just expect that God will automatically take care of whatever is going on...it means that when we pray we must have faith that God's blood is enough
.
Sometimes we feel like God doesn't answer us. Remember though that he told you what he did. He came, he died, he shed his blood for our sins, our shame, and our disease. He promised he would hear us. Remember also that God might have a different answer than you want. Don't give up because your prayers weren't answered how you wanted it to be answered.
It's not up to us to do anything except pray and trust. This side of eternity isn't always pretty and doesn't always make sense...but one day we will see fully and know that God had each of us in his hands.
"You Are Abel/Able"
Genesis 2:7 Then the LORD God formed the man of dust from the ground and breathed into his nostrils the breath of life, and the man became a living creature.
God formed man of dust and then took his breath and put it in us. When you breathe you give up what is inside. When God gave up what was inside of himself, we began to live. Everything you need was placed inside of you from the beginning.
Genesis 4:1-9 Now Adam knew Eve his wife, and she conceived and bore Cain, saying, "I have gotten a man with the help of the LORD." And again, she bore his brother Abel. Now Abel was a keeper of sheep, and Cain a worker of the ground. In the course of time Cain brought to the LORD an offering of the fruit of the ground, and Abel also brought of the firstborn of his flock and of their fat portions. And the LORD had regard for Abel and his offering, but for Cain and his offering he had no regard. So Cain was very angry, and his face fell. The LORD said to Cain, "Why are you angry, and why has your face fallen? If you do well, will you not be accepted? And if you do not do well, sin is crouching at the door. Its desire is for you, but you must rule over it." Cain spoke to Abel his brother. And when they were in the field, Cain rose up against his brother Abel and killed him. Then the LORD said to Cain, "Where is Abel your brother?" He said, "I do not know; am I my brother's keeper?"
Most people know the story of Cain and Abel but do you see the connection between the first passage and these brothers? Adam had already sinned so these brothers were born into sin. Cain was the firstborn...he was a tiller of the ground...the dust came first. (Then the LORD God formed the man of dust from the ground). Abel was the second-born. In it's original language, Abel was pronounced "Ha-bell"...you literally have to expel your breath to say his name and that's what it means.
When we are born we are like Cain - we are born with a sinful nature. Cain is the personification of sinful nature. Abel was pleasing to the Lord and gave God his best. We are sinful to the core but because of Jesus we don't have to live like Cain any longer. With Him we are Abel/Able. When the blood of Jesus is applied to your life...when you are born again...you have full access to the breath of life.
You were spiritually dead until Jesus gave you life. Because of the sacrifice of Jesus...our lives are now pleasing to God. You are able to overcome anything in your life. What is in you is greater than anything in the world. God gave up what was inside of him. He sent his son to us. Jesus died to give us life. We accept Jesus into our lives. He lives in you.
When you have the breath of life in you, you have to let that breath out into the world. This is one point where God reveals himself through creation. In order to physically live, we have to continually inhale and exhale. You have to breathe or you die. That is God reminding you that you are constantly receiving his breath and his spirit but we also have to breathe it back out. There is the power of life and death in your words. We have to be a bold and passionate people who speak life into dead places and situations.
Go after your dream and vision in spite of anything that rises up against you. We have been given everything and more than enough to be the people we were created to be because he breathed into us. The world doesn't have what they need or what it takes. Christians! Wake up and breathe out! Breathe out where you are...you are able to bring hope. Don't wait for the perfect setting. Use your life, use your story to bring hope...breathe him in and breathe him back out into the world.
It's here where my notes start to taper off a bit...Roshan and Chris did fantastic jobs...just hard to take notes after 4am.
Roshan spoke a message entitled
"And Again I Go Unnoticed"
Where is God's favor in my dark place? Sometimes you go to church and see God dramatically in everyone else. But where is God's favor in my life? Sometimes our lives are lives that go unnoticed. We aren't moving or growing. God is there but he doesn't always move in our lives. We are the reason we aren't moving. We become a stumbling block to God's plans. It's up to us to go after God.
Mark 5:24-34 And a great crowd followed him and thronged about him. And there was a woman who had had a discharge of blood for twelve years, and who had suffered much under many physicians, and had spent all that she had, and was no better but rather grew worse. She had heard the reports about Jesus and came up behind him in the crowd and touched his garment. For she said, "If I touch even his garments, I will be made well." And immediately the flow of blood dried up, and she felt in her body that she was healed of her disease. And Jesus, perceiving in himself that power had gone out from him, immediately turned about in the crowd and said,

"Who touched my garments?"

And his disciples said to him, "You see the crowd pressing around you, and yet you say,

'Who touched me?'

" And he looked around to see who had done it. But the woman, knowing what had happened to her, came in fear and trembling and fell down before him and told him the whole truth. And he said to her,

"Daughter, your faith has made you well; go in peace, and be healed of your disease."
This woman had faith...when all else failed, when she was out of money and there seemed to be nothing left for her...she still had faith. Notice that she doesn't wait for Jesus to come find her and heal her, She goes after him!
Matthew 9:35 And Jesus went throughout all the cities and villages, teaching in their synagogues and proclaiming the gospel of the kingdom and healing every disease and every affliction.
Jesus had compassion on this woman. This outcast. Even though the rest of the world had shunned her, he reached out and touched her. She took the initiative and he responded.
Luke 18:35-43 As he drew near to Jericho, a blind man was sitting by the roadside begging. And hearing a crowd going by, he inquired what this meant. They told him, "Jesus of Nazareth is passing by." And he cried out, "Jesus, Son of David, have mercy on me!" And those who were in front rebuked him, telling him to be silent. But he cried out all the more, "Son of David, have mercy on me!" And Jesus stopped and commanded him to be brought to him. And when he came near, he asked him,

"What do you want me to do for you?"

He said, "Lord, let me recover my sight." And Jesus said to him,

"Recover your sight; your faith has made you well."

And immediately he recovered his sight and followed him, glorifying God. And all the people, when they saw it, gave praise to God.
Once again, here is an outcast. A blind and dirty beggar. This man began to scream for attention. He knew that Jesus was here and he had faith. Jesus responded to his screams and intervened.
When we feel stuck, like everyone else is experiencing God while we just watch...it's often times up to us to look at our own lives and question if we are pursuing Him. Don't wait for him to show up...he's already here. Initiate the movement and don't let your life pass by unnoticed.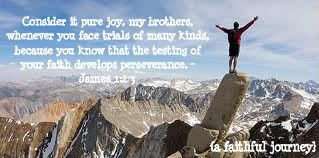 Chris closed us out by talking about trials.
James 1:2-4 Count it all joy, my brothers, when you meet trials of various kinds, for you know that the testing of your faith produces steadfastness. And let steadfastness have its full effect, that you may be perfect and complete, lacking in nothing.
It's so easy to pray and praise God when everything is going great in our lives. It's easy to praise him when we are happy. But do you thank him for the rough times in your life? Do you praise him when you are in the midst of struggle and strife? It's important that even when we don't feel like it, even when life is hard that we still give God the glory and thank him for giving us trials that will help us grow.
1 Thessalonians 5:18 Give thanks in all circumstances; for this is the will of God in Christ Jesus for you.
All in all it was an incredible evening! God was definitely present and speaking to us. I am so thankful for C4 and the people who faithfully sacrifice their time to serve and follow God's will. The best is yet to come!